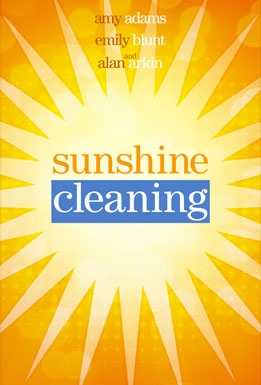 Venkman here with a new trailer for the Film 'Sunshine Cleaners' this is a new indy comedy brought to you by the same producers who did 'Little Miss Sunshine'. This is a very different movie though. It is a much darker film. It sold for $2 million dollaers to Overture films. The movie stars Amy Adams, Emily Blunt, Steve Zahn and Alan Arkin and is about:
A single mom and her slacker sister that find an unexpected way to turn their lives around in the off-beat dramatic comedy 'Sunshine Cleaning'. Directed by Christine Jeffs, this uplifting film about an average family that finds the path to its dreams in an unlikely setting screened in competition at the 2008 Sundance Film Festival. Once the high school cheerleading captain who dated the quarterback, Rose Lorkowski (Academy Award nominee Amy Adams) now finds herself a thirty something single mother working as a maid. Her sister Norah, (Golden Globe winner Emily Blunt), is still living at home with their dad Joe (Academy Award winner Alan Arkin), a salesman with a lifelong history of ill-fated get rich quick schemes. Desperate to get her son into a better school, Rose persuades Norah to go into the crime scene clean-up business with her to make some quick cash. In no time, the girls are up to their elbows in murders, suicides and other...specialized situations. As they climb the ranks in a very dirty job, the sisters find a true respect for one another and the closeness they have always craved finally blossoms. By building their own improbable business, Rose and Norah open the door to the joys and challenges of being there for one another-no matter what-while creating a brighter future for the entire Lorkowski family.

I think it looks pretty good. Check out the trailer below.


Joey Paur
— Co-Founder / Editor of GeekTyrant.com, and if you haven't noticed I write… a lot. Movies are my passion and I live and breathe all things geek. This site is part of my life's work, it's a part of me. I love what I do, and I enjoy sharing everything I can with you when it comes to movies and geekery. In my spare time I travel to the netherworlds to battle demons. @JoeyPaur | joeypaur@geektyrant.com