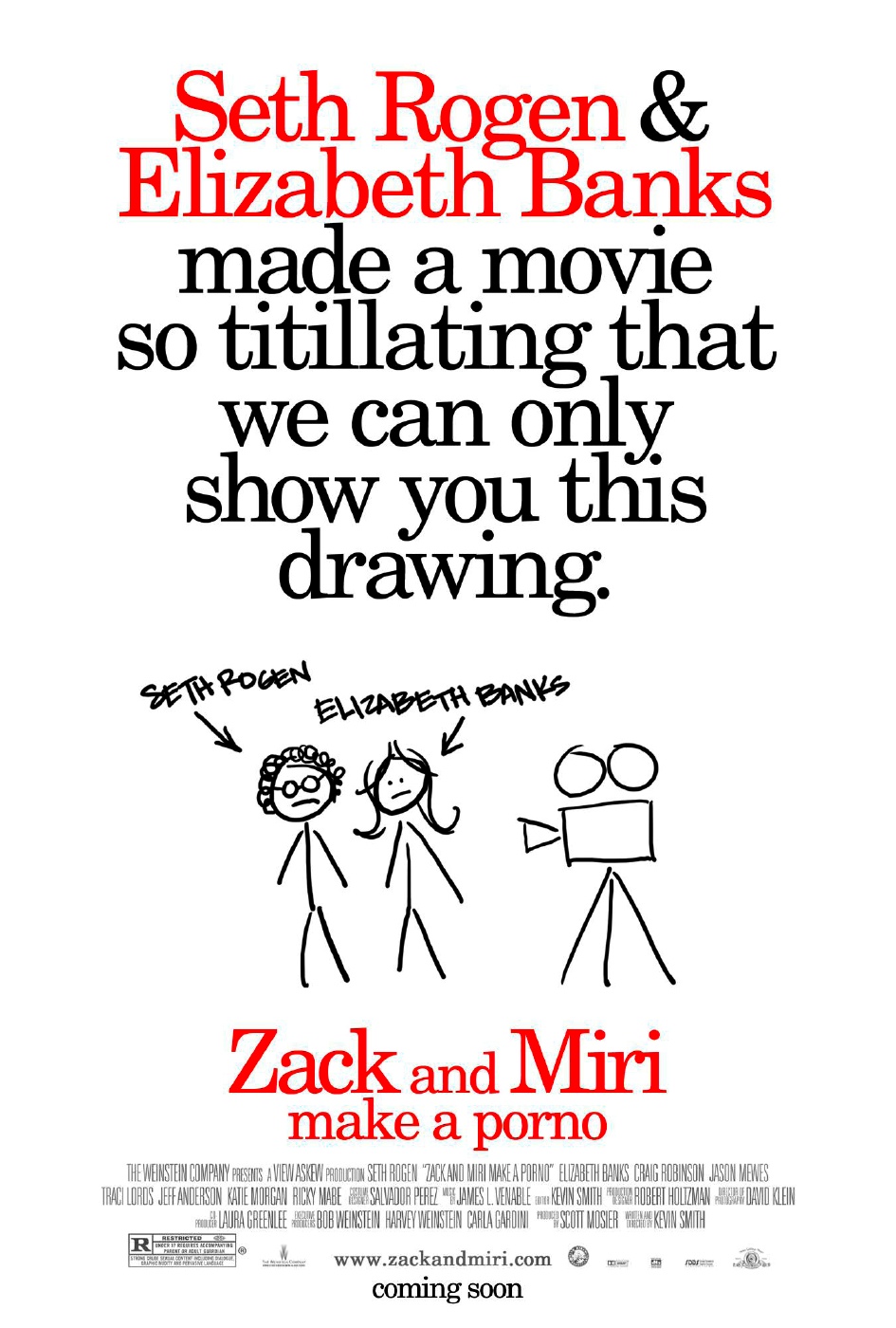 This just baffles the hell out of me. Some peoples priorities are really screwed up, and I know for a fact that Utah has a lot of hypocrites. According to an article in The Salt Lake Tribune Megaplex Theaters in Utah will not screen Kevin Smiths 'Zack and Miri make a Porno' when it opens up nationwide on Friday. Here is the thing that gets me. They will ban movies with strong sexuality but torture porn is ok. Oh yeah! They showed films like the 'Saw' series and 'Hostel'! But they won't show a 'R' rated romantic-comedy. Personally I don't think the movie looks that good anyway, but I am trying to make a point of the hypocricy that runs ramped in the state of Utah. Here is what is said:
Megaplex general manager Cal Gunderson told The New York Post, "we feel it's very close to an NC-17 with its graphic nudity and graphic sex."

Yeah and the MPAA gave it an 'R' rating not an NC-17. 'Saw' and 'Hostel' were OK for you to show though? They also played 'Knocked up' and 'The 40-year-Old Virgin' , and 'Forgetting Sarah Marshall' as well. Is this because Porno is in the title of the film? So what is in the movie that is more offensive than torturing and killing people in the most horrific manner?
"Zack and Miri" features images of full-frontal nudity, male and female, but never together and never in a sexual act. Similar content can be found in movies that have played at Megaplex theaters. In April, the chain booked the comedy "Forgetting Sarah Marshall," which showed star Jason Segel completely naked. Earlier this month, the chain opened another comedy, "Sex Drive," filled with sexual dialogue and bare skin.

They played other movies with similar content! Lets see they also recently released 'Saw V', what's in that movie that isn't offensive?
Among the grisly images in "Saw V" are a woman decapitated by blades in a collar and a man forced to crush his hands to escape being cut in half by a pendulum.

So that is the kind of stuff that is OK to show in a Utah movie theater. When they were asked about their little double standard Gunderson replied with:
"No Comment".

What the hell? I have family and friends that live in Utah so I know not all people in Utah are Utards, but there are those that have their moments.
Featured Posts on GeekTyrant