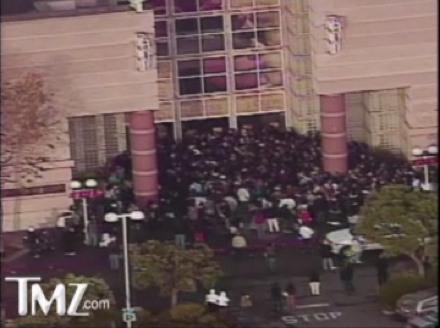 Look at you! This is a group of Twilight fans mobbing the San Francisco Stonestown Galleria. 3000 rabid bloodsucking Twilight fans showed up to see and hopefully get an autograph from Twilight star Robert Pattinson.

Apparently event officials thought only about 300 to 500 fans would show up for the event. Good grief! I could have told them they were way off on that estimate! They obviously still have no idea how big their market is for this movie.

Well, things just got crazy out of control when the Twilight mob was trying to push into the mall. Several kids fell and got trampled on, and one girl got a broken nose. There is no need for violence people. Do you know what happens when things get out of control? It's all fun and game until somebody gets hurt.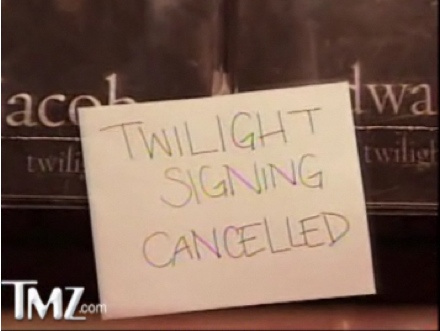 Yes when you are bad you get punished. The signing was cancelled becuase twilight fans became excited and violent. I have seen first hand at Comic-con the twilight madness. How did officials not see this coming? It is no surprise this movie is going to be huge. For safty sake, for yourself and others please, please, please, be patient and calm down. Your time is at hand. I can only imagine what the movie theaters are going to be like opening night. If your not careful they might just start cancelling screenings.

Check out the video over at TMZ.
Joey Paur
— Co-Founder / Editor of GeekTyrant.com, and if you haven't noticed I write… a lot. Movies are my passion and I live and breathe all things geek. This site is part of my life's work, it's a part of me. I love what I do, and I enjoy sharing everything I can with you when it comes to movies and geekery. In my spare time I travel to the netherworlds to battle demons. @JoeyPaur | joeypaur@geektyrant.com