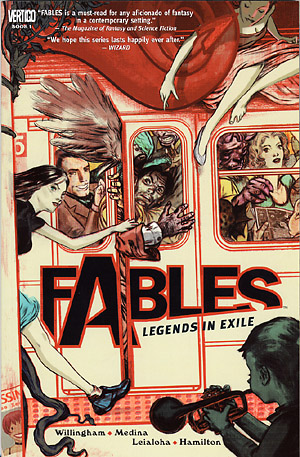 It looks like ABC has committed itself to a new fantasy project for TV based on the comic book by Bill Willingham called FABLES. They are bring in Stu Zicherman and Raven Metzner to write the script. They are the creators of the TV show 'Six Degrees'. THR Reports:
David Semel has come on board to direct "Fables," which revolves around characters from fairy tales and folklore living in exile in modern-day New York.

"Their lives become interconnected in vary big way," Zicherman said. "They share a secret and a bond."

Zicherman and Metzner wouldn't elaborate which fairy tale characters will be featured in the TV series, but noted that Big Bad Wolf and Snow White, who are central to the comics, will have a similar role on the show.

The comic book series' first storyline followed Fabletown's sheriff, a reformed and pardoned Big Bad Wolf, who investigates the murder of Snow White's party-girl sister, Rose Red.

"We set up a structure to allow any fairy tale character to show up in any one episode," Metzner said.

The fairy tale characters will keep some of their trademark characteristics. For instance, Prince Charming will be handsome, while Big Bad Wolf will have to shave a four-day shadow from growing back every day.

But overall, "they are just like real people in the real world who live and breathe and look just like you and me," Metzner said.

I think the comic book is great, and if done right it could be a very successful TV show for ABC. If you dont know what Fables deals with, it is a series with various characters from fairy tales and folklore, referring to themselves as "Fables", who have been forced out of their Homelands by a mysterious enemy known as the Adversary. They have traveled to our world and formed a clandestine community in New York City known as Fabletown. Fables who are unable to blend in with human society (such as monsters and anthropomorphic animals) live at "the Farm" in upstate New York. It takes place in a continuity of its own, and is unrelated to the larger DC Comics continuity.
Featured Posts on GeekTyrant