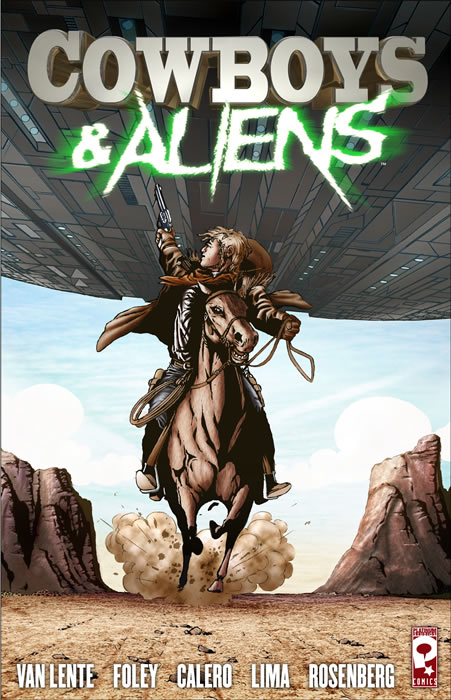 The Hollywood Reporter tells us that Robert Downey Jr. is in negotiations with Dreamworks to star in an up coming movie called "Cowboys & Aliens". Here is what they have to say.
"Cowboys & Aliens" derives from a graphic novel written by Fred Van Lente and Andrew Foley from an original idea by Rosenberg. The story centers on an Old West battle between the Apache and Western settlers, including a former Union Army gunslinger named Zeke Jackson (Downey), that is interrupted by a spaceship crashing into the prairie near Silver City, Ariz.

The story draws a parallel between the American imperialist drive to conquer the "savage" Indians with its advanced technology and the aliens' assault on Earthlings, who must join together to survive the invaders' attack

I have always been a big fan of RDJ. I always thought he was Hollywood's most underrated actors. Who would've thought that a superhero flick would launch him into the elite realm of super stardom. I am not complaining, I am amazed on how much his stock has picked up. It makes me happy to see that he is being fought for by so many people.

This movie is slated to hit theaters in April 2010. Some of you might say that, "Wait doesn't that conflict with the filming of IronMan?". Don't worry my concerned friends, I have the answers for you. Actually Jon Fareau has the answers for you. He did a Q&A recently on his myspace account In which Jon says the following:
March seems unrealistic.

We had always hoped for the film to be well received, but we were all pleasantly surprised by how much business it has done.

Robert and I speak a lot and can't wait to get started developing the script for IM2.

There is nothing to announce.

Well my friends, if Marvel has any integrity they will sign this man ASAP to do IM2. Anyone one that takes this much time and effort to make sure we fans get the best, deserves the best. Let me know what you think.

McMurphy Out!
Featured Posts on GeekTyrant