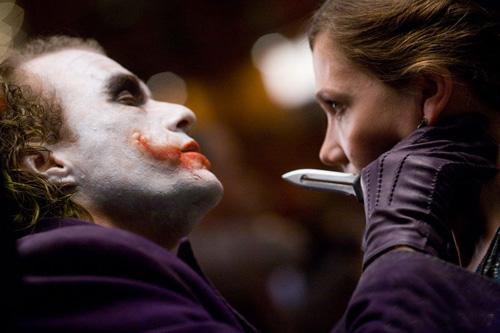 Well my fellow surfers, I am going to try to make the best out of a tragic situation. When I first heard that Heath Ledger was going to be Joker in the next installment of the Chris Nolan Batman saga, I was torn. I thought, "This will either make him or break him.". Because there are so many of us who love Nolans vision of Gotham, one bad casting could bring all of the haters out of the woodwork. So I was apprehensive to say the least.

Then the first pictures and clips started to leak out, and I was sold. In my opinion there never has been or never will be a better Joker. Then that horrible day in January came when we all heard the news that Ledger accidentally overdosed on prescription drugs. The hope of a continuing Joker, Batman rivalry was destroyed. Some of you might think that they can always cast someone else to take over the role. In some cases this might be true, but the impression that I get from his performance is that there will not be another. I feel that this is Ledger's performance of a lifetime. Like RDJ performance of Tony Stark, this was going to be Heath's key to the kingdom. His vault from good actor status to the upper echelon of great actors.

Now that my personal feelings are out there, lets get to the important part of this rant. Warner Bros. and Chris Nolan have dedicated this film to Heath and special-effects tech Conway Wickliffe. Both who passed away in the last year. In the credits the tribute will read:

"In memory of our friends Heath Ledger & Conway Wickliffe,"

Thank you to Warner Bros. publicity web site for releasing this. Found on Yahoo news, "The Dark Knight" director Chris Nolan had this to say about our lost friend.
"I needed a phenomenal actor, but he also had to be someone unafraid of taking on such an iconic role," Nolan says in the production notes for "The Dark Knight." "Heath created something entirely original. It's stunning, it's captivating. ... It's going to blow people away."

R.I.P. Heath. Thank you for what you gave to us.

McMurphy Out!
Featured Posts on GeekTyrant