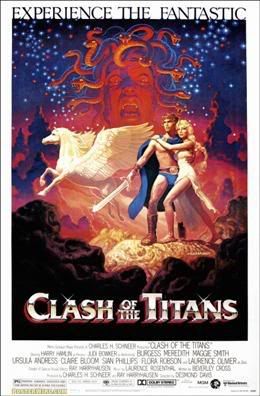 Louis Leterrier recently sat down and gave an interview with a French website called
EcranLarge.com
. In this interview he talks a lot about his next film "Clash of the Titans", which I am really looking forward to. After watching this interview he gave, I am even more excited for this movie to get made! I have posted a few highlights below and what he has to say!
French Guy - Will There be a Kraken?

Leterrier - Of course there will be a Kraken! But a different Kraken. There will be much more. In the Original film there were no Clash and no Titans. Now you will see The "Clash" of the "Titans". People say that it will be filmed like 300, it's not true. It will be photorealistic, with a big budget. I want to do an homage to Ray Harryhausen. He's still alive and will be part of the film."
Wow! I love this! He is actually going to bring in Ray Harryhausen to be part of the film! I couldn't be more happy that he is making this happen!
In regards to how Letterrier got to direct the 'Clash of the Titans Remake he says:
"In the beginning, Stephen Norrington was the director of this project. I called him. He had a problem finding a new trick for this remake. He didn't grow up watching Clash of the Titans [like I did]. So I called him, we share the same agent, and I asked him: do you really want to do it? He didn't want to make a new League of Extraordinary Gentlemen. So I told him, can I do it? And he said yes. So I told Warner Brothers - Desmond Davis, well, he's not the greatest director, but there was Ray Harryhausen and great actors and this movie is a childhood memory. If I do it, it will be different. It's still Perseus myth, but maybe to begin a franchise of Greek mythology. Because I love that! It's monsters and adventures..."
A franchise of Greek Mythology. How awesome is that! This could be huge! If Stephen didn't know what to do with it I am so glad it is out of his hands, he would have destroyed the movie! The cool thing is Leterrier wanted this project, and did the leg work to make it happen, which means he is as just excited to make it as we are watch it! He goes on to say:
"I don't want to do the same as the original... You have to change the mythology. I want to make adventure films because I want to see them! I want to make them with a new point of view. I've just made the remake of Ang Lee's Hulk, but it's not the same film. It will be the same situation for Titans."
Could you really ask for a better director on this movie? 'The Incredible Hulk' was an amazing movie and the guy obviously knows what he wants to do with 'Clash of the Titans'! Louis Leterrier has assured me that this movie is going to be everything I hoped it would be and more.
- Dr. Venkman  
Featured Posts on GeekTyrant