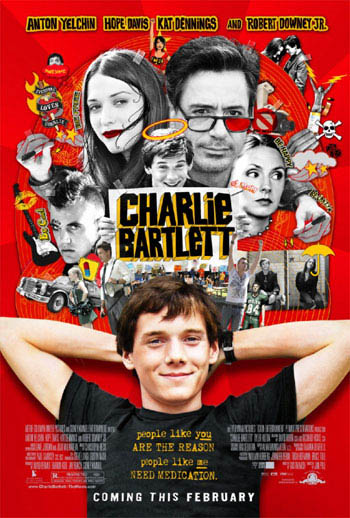 Charlie Bartlett was a nice little indy type film directed by Jon Poll and starred Anton Yelchin, Robert Downey Jr., Hope Davis, and Kat Dennings.
I enjoyed my time watching this movie, and didn't feel like it was a waste of my time. It was definitely different. There are very few adult themed comedies that have a high school setting. My favorite by far is Wes Andersons 'Rushmore'. Charlie Bartlett had a couple similarities the main one being each is a bout a kid in a private school that is thrust into a public school where they don't fit in at first and then they find their edge and roll with it becoming popular.
Charlie is expelled from his most current private school for selling fake ID's. There is no other choice for him now but to go to public school and give it a try. Maybe this is what he needs to shape up/ He gets the crap beat out of him by the school bully his first day. Charlie is having a hard time fitting in and finding friends. Maybe because he shows up for school in his cute little private school uniform. I would think a normal person would know better. His mom gets Charlie a physiatrist to help him with his so called problems. The Physiatrist ends up giving him some Ritalin so he can focus better, the drugs end up making him one little crazy ball of energy. He realizes he doesn't need the drugs for himself, and teams up with the school bully to sell them to all the other kids in school during a dance so that they can get all hopped up on Ritalin. It is an instant success and the next day of school the whole school loves Charlie because he's got the drugs. He ends up holding psychiatric sessions in the boys bathroom where he talks to people about their problems and subscribes them drugs. He then gets involved with the Principals daughter and all his popularity dreams start to come true until the shit hits the fan.
I know it sounds kind or ridiculous but it is a fun movie to watch. There are a few points in the movie that jump out and hit you in the face. Like "Where the hell did that come from?" Its not a bad thing, they are just interesting scenes that are plain strange. One of them is when Charlie goes to audition for a school play. It is funny, but I just wasn't expecting how it all goes down.
Charlie Bartlett also has a few dark elements to it, mostly on how real people deal with their problems when under a lot of stress. Robert Downey Jr. Had a great blow out scene that would scare the crap out of any teenager.
The casting in the movie was great. I loved Anton Yelchin as Charlie Bartlet. He pulled of some pretty strange things. Yelchin is a really good actor and if he plays his cards right he could be a very successful actor as he gets older. Robert Downey Jr. plays the Principal of the public school where Charlie ends up. We all know Robert is a fantastic actor. Hope Davis plays this role very well I can't stand people like the character she played. Kat Dennings played the Principals daughter. She was as good as she could be.
Charlie Bartlett was a good movie. I would recommend to rent it. It's not a DVD I would go out and buy. If you like quirky little independent films like this then definitely get it. It's a funny, sad, depressing, annoying, and frustrating film, but the story is solid and the acting is really good.
-Dr. Venkman
Movie Trivia: This isn't the first time Anton Yelchin and Hope Davis have been in a movie together. The were also Mother and Son in Stephen Kings 'Hearts in Atlantis' movie which also starred Sir Anthony Hopkins.
Featured Posts on GeekTyrant