Venkman here with some casting news for Matthew Vaughn's comic book adatation film 'Kick-Ass'. Christopher Mintz-Plasse most of the world knows him as McLovin is in negotiations, while Chloe Moretz has been cast in a film
whose violent nature has forced Hollywood studios to pass on making it. Vaughn, however, is such a believer in the project that he raised the money for the $30 million indie project himself.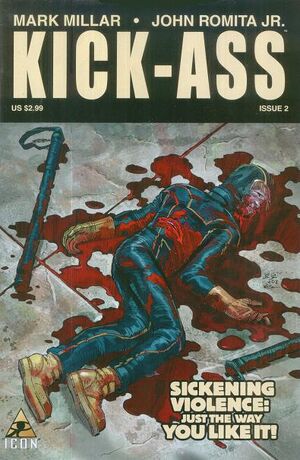 This is going to be a crazy ultra violent movie if Hollywood studio's passed on it. Thumbs up! So what it it about you ask?
"Kick-Ass," written by Millar and drawn by John Romita Jr., follows a high school dweeb who attempts to reinvent himself as a real-world costumed superhero named Kick-Ass who seems doomed to failure because he's not athletic or coordinated until he runs into real bad guys with real weapons.

The comic is ultraviolent, with kids taking on adults of all stripes. Moretz's character, for example, is a ferocious, potty-mouthed 11-year-old who chops down crime thugs with a ninja sword. Mintz-Plasse will play the Red Mist, the angry teen son of a mobster who tries to find uncover Kick-Ass' identity.

The main character, dweeb Dave Lizewski, has not yet been cast. Vaughn also is talking to several high-profile stars to play parents or mobsters.

I'm sorry, did he say an 11 year old girl slicing people up with a Ninja sword? Its going to be like a crazy violent rated 'R' version of Napoleon Dynamite. I think the idea is pretty cool. Matthew Vaugn has also directed the movies 'Stardust' and 'Layer Cake'. So it seems like this is a perfect film for him to do. He really believes in the project so expect to get a Kick Ass movie. Ooooooh! You see what I did there!?


Joey Paur
— Co-Founder / Editor of GeekTyrant.com, and if you haven't noticed I write… a lot. Movies are my passion and I live and breathe all things geek. This site is part of my life's work, it's a part of me. I love what I do, and I enjoy sharing everything I can with you when it comes to movies and geekery. In my spare time I travel to the netherworlds to battle demons. @JoeyPaur | joeypaur@geektyrant.com