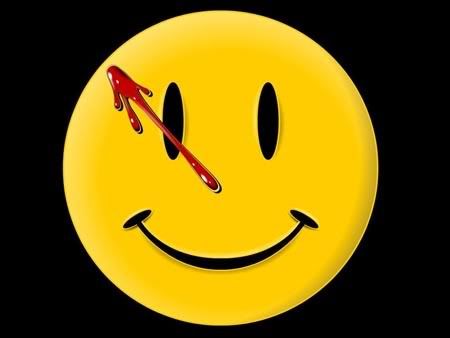 FOX

Venkman here - And it looks like the 'Watchmen' movie has got some legal issues that need to be sorted out. Apparently Those crazy Warner Bros. made the movie without securing the rights to make it from FOX, who says they own them. Nikki Finke has the deatils:
In the lawsuit, 20th Century Fox contends that it owns the distribution rights to any motion picture based on Watchmen and argues that it has held these rights for almost two decades based on agreements with producer Larry Gordon and his related business entities. Fox asserts claims against Warner Bros and its affiliates for copyright infringement and interference with Fox's contract rights under a 1991 agreement with Gordon's affiliate.

Warner Bros put in a motion to dismiss FOX's Lawsuit but recently the judge came out and said no, which means 'Watchmen' is going to hit the courtroom so Warner Bros and FOX can settle the dispute.
"In essence, the Judge appears to conclude that Fox retained distribution rights in Watchmen through the 1991 Largo quitclaim, and he concludes that, under the 1994 turnaround, producer Larry Gordon acquired an option to acquire Fox's remaining interest in Watchmen that was never exercised, thereby leaving Fox with its rights under the 1994 agreement," a 20th Century Fox source just told me.

I know very little about the laws surrounding this issue. This really sucks though because the fans for this film couldn't be more pumped up for it! Warner Bros pulled out the heavy artillery at Comic-Con this year and blew up the fan base with some amazing footage. Everyone is ready for this movie to come out in March of next year!

So what happens to the movie now? Warner Bro's could fight it or just pay them a lot of money to make it go away. If this goes to court, which it looks like it will 'Watchmen' might get stuck in the courts. I would be so pissed! It will be interesting to see how this all turns out. I just hope everybody works out something so the fans don't have to wait any longer to see this movie. In the end Warner Bros. is going to loose millions and millions of dollars.

Here is a little time line to how the rights of 'Watchmen' went down:
1986-90: Fox acquires motion picture rights in The Watchmen.

1990: Fox enters into a domestic distribution agreement with Largo Entertainment, a joint venture of JVC Entertainment Inc., Golar (Larry Gordon), and BOH, Inc. The "Largo Agreement" established Fox's domestic distribution rights, through a license from Largo, in "subject pictures" as defined in the agreement.

June 1991: Fox enters into a "Quitclaim Agreement" with Largo International, through which Fox "quitclaims to Purchaser all of Fox's right, title and interest in and to the Motion Picture project presently entitled Watchmen, which included specifically described literary materials. Notably, the agreement provides that, "if Purchaser elects to proceed to production, the Picture shall be produced by Purchaser and shall be distributed by Fox as a Subject Picture pursuant to the terms of the Largo Agreement ..." In consideration for the rights to Watchmen, Fox was to be reimbursed for its development costs ($435,600) plus interest plus a profit participation in the worldwide net proceeds of any Watchmen picture.

Nov. 1991: The Largo Agreement was amended; Watchmen was listed as a project quitclaimed to Largo.
Nov. 1993: Larry Gordon, through Golar, withdraws from the Largo Entertainment joint venture; Largo conveys any rights it has in Watchmen to Gordon/Golar. Based on the 1991 quitclaim, the Court may infer that Gordon now stood in the shoes of Largo with respect to Watchmen and held whatever rights it acquired through the 1991 Quitclaim, which left Fox with the distribution rights it retained through that agreement.

1994: Fox negotiated a "Settlement and Release" agreement with Gordon which contemplated that the Watchmen project would be put in "perpetual turnaround" to Lawrence Gordon Productions, Inc. The "turnaround notice" gave Lawrence Gordon Productions "the perpetual right . . . to acquire all of the right, title and interest of Fox [Watchmen] pursuant to the terms and conditions herein provided." The turnaround notice then described the formula for determining the buy-out price in the event that Gordon elected to acquire Fox's interest. Thus, the document suggests that Gordon acquired an option to acquire Fox's interest in Watchmen for a price. In fact, the notice obligated Gordon to pay the buy-out price on the commencement of any production of a Watchmen film. The notice also provided that the agreement was personal to Gordon and that, "prior to payment of the Buy-Out Price," he could not assign rights or authorize any person to take any action with respect to the project.

May 2006: Warner Brothers, allegedly with knowledge of the 1991 Quitclaim, entered into a quitclaim agreement with Gordon under which it claims to have acquired the rights to the Watchmen project. Fox alleges that these facts demonstrate that, at the very least, it retained distribution rights in Watchmen, that it performed all of its obligations under the relevant agreements, and that while it granted Gordon what amounted to an option to acquire its rights, neither Gordon nor his successors ever fulfilled their contractual obligations to Fox. Indeed, Fox contends that Warner Bros either knew or turned a blind eye to the fact that Fox had retained distribution rights in the project, and that Gordon had not perfected his interest in the Watchmen project before quitclaiming it to Warner Brothers. In any event, Fox now contends that it presently holds rights in Watchmen and that Warner Brothers' production of the Watchmen film infringes on those rights.

It would have been nice if Warner bros would have done their homework a little better so they could have avoided this little lawsuit. What do you think?
Featured Posts on GeekTyrant