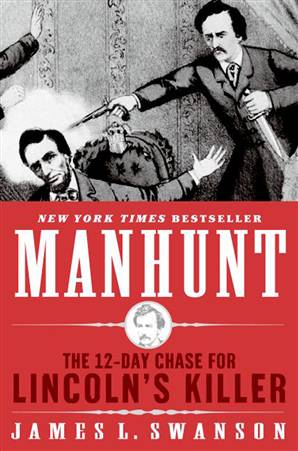 It is easy to say this is going to be the next huge hit for HBO. The show hasn't even gone into production yet but I can tell you that it will follow John Adams lead and get nominated for a bunch of awards. The subject matter alone will make this a big hit.

David Simon and Tom Fontana will once again join forces to bring us an HBO miniseries called 'Manhunt' about the 12 day search for Abraham Lincoln's assassin John Wilkes Booth. Variety reports:
HBO won't comment on the adaptation of James L. Swanson's book "Manhunt," which follows the search for Abraham Lincoln's assassin. The project is in early development, with the pay cabler optioning the tome and Simon and Fontana set to pen the screenplay.

Simon and Fontana would serve as exec producers, along with Lawrence Bender, Kevin Brown and Walden Media.

Story will focus on the perspectives of lesser-known historical figures that were connected to the assassination of Lincoln and the subsequent media frenzy and manhunt.

I love when HBO does these kinds of shows. How can you go wrong?
Joey Paur
— Co-Founder / Editor of GeekTyrant.com, and if you haven't noticed I write… a lot. Movies are my passion and I live and breathe all things geek. This site is part of my life's work, it's a part of me. I love what I do, and I enjoy sharing everything I can with you when it comes to movies and geekery. In my spare time I travel to the netherworlds to battle demons. @JoeyPaur | joeypaur@geektyrant.com