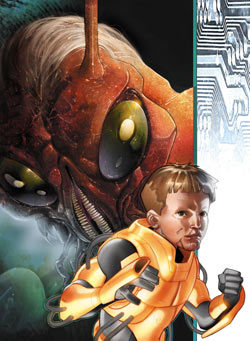 ... That is until someone wants to do exactly what Orson Scott Card wants. This has been a film I have been wanting to see since I read the Enders Game series years ago. But the road to get this book adapted into a film has been a rocky one. The movie has been trying to get to the big screen for two decades so whats the problem? Card Recently did an interview with LA Times to talk about his next Ender book 'Ender in Exile' which will pick up right where the 1985 novel left off. Wolfgang Peterson was once attached to direct the film but left the project, because it sounds like no one could agree on anything and the project wasn't going anywhere.
This complex weave of emotions has made Ender especially difficult to film and has resulted in two decades of fizzled studio meetings, dead-end scripts and a marathon director search. The author said he was not interested in a "tough-hero action film" and refuses to condescend to green-screen Hollywood. Card imagines a "film where the human relationships are absolutely essential -- an honest presentation of the story."

But green screen is looking more and more incredible! The technology is here where the film can be made the way it is meant to be seen! Relationships can still be essential with a green screen or even CGI animation. What is wrong with these mediums and tools? They are here and can help bring this story to life in the best ways possible. They have worked for tons of other films, why can't it work for 'Enders Game'? I don't see any other way to pull it off.
"Ender's Game" was recently in development with director Wolfgang Petersen ("In the Line of Fire," "The Perfect Storm," "Troy") on board, but Card did not feel comfortable with the movie's direction. That project was scrapped early in November.

As much as this sucks this new book that is coming out sounds pretty interesting.
When we revisit Ender in "Exile," he is 17 and exalted as a hero for fending off the third wave of alien marauders that threatened to obliterate Earth. But his brutal military techniques render him a monster to the very people who trained him to be a killer. He is mercilessly exiled from his home planet and forced into a colony that is light years away.

"Exile" is not the first time Card has dipped back into Ender's universe -- there were three sequels and a spinoff novel. But "Exile" fills in "the lost years." That's because in the original follow-up, "Speaker for the Dead," published in 1986, the protagonist is 35 and healed from the trauma of being Earth's savior.

Please go to LA Times to read the rest of the article. There is a lot of information about Card and his new Ender book.
Featured Posts on GeekTyrant