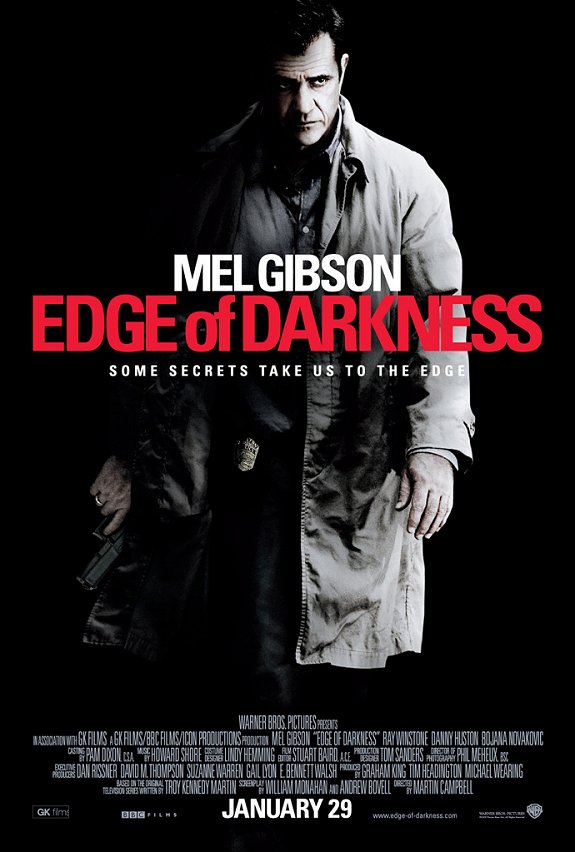 Say what you will about Mel Gibson's crazy streak, but the guy is a great actor, and it's good to see him back in front of the camera doing his thing. In Edge of Darkness he plays homicide detective Thomas Craven who is investigating the death of his activist daughter played by Bojana Novakovic, he uncovers not only her secret life, but a corporate cover-up and government collusion that attracts an agent tasked with cleaning up the evidence.

The film is actually an adaptation of the 1985 BBC series. Ray Winstone is also in the film, and he plays Matt Jedburgh, a CIA officer sent to cover up the murder. Robert De Niro had been cast in the role, but he walked out just after he arrived to begin shooting, due to creative differences.

The film was directed by Casino Royale director Martin Campbell, and it looks like he has put together a pretty damn good action packed suspenseful thriller. It looks like it has the same kind of vibe that Taken had. It looks like it will be just a good too.

The film comes out January 29th 2010. Check out the trailer below and tell us what you think!

Watch the trailer in HD over at Yahoo
Joey Paur
— Co-Founder / Editor of GeekTyrant.com, and if you haven't noticed I write… a lot. Movies are my passion and I live and breathe all things geek. This site is part of my life's work, it's a part of me. I love what I do, and I enjoy sharing everything I can with you when it comes to movies and geekery. In my spare time I travel to the netherworlds to battle demons. @JoeyPaur | joeypaur@geektyrant.com