Star Wars: The Living Dead Strike Back parody Art
The good folks(fellow geeks) at StarWars.com have been host to "Zombie Week," in honor of the forthcoming Halloween holiday. The fruits of this endeavor have yielded some of the coolest original art and parodies we've seen of the Star Wars universe. I cant imagine any half-dead movie lover not eating this up with both decomposing hands!

Check out the pics, and let us know what you think!
Shaun of The Dead mash-ups:

"Han of The Dead" by Cat Staggs



"Obi-Wan of the Dead" by Tom Hodges
Zombie-Wars parodies by Matt Busch: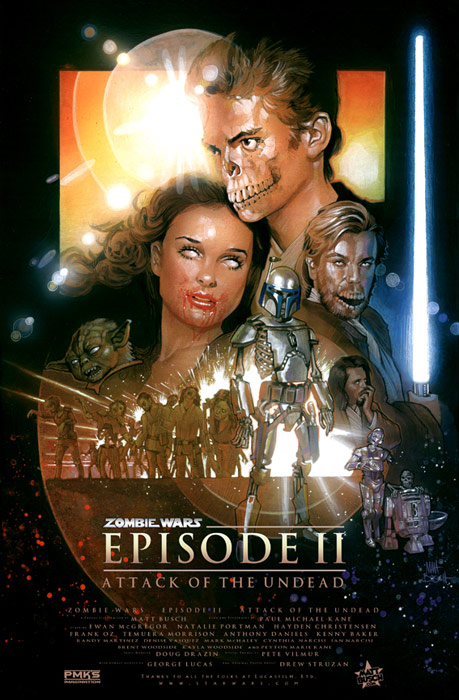 Death Troopers:

"Death Trooper" by Jamie Snell



"Death Troopers" Cover by Indika



"Attack of the Clones" by Jamie Snell
Comedic Parodies:

"Vader's Dream" by Jeff Carlisle



"No Mere Mortal Can Resist" by Spencer Brinkerhoff III



"Zombie Cantina" by Katie Cook
Evil Dead and Living Dead mash-ups:

"The Evil Wars" by Nicole Falk



"Knights of the Living Dead" by JAKe



"The Empire of Zombies Strikes Back" by Paul Michael Kane

To see the full gallery complete with descriptions and stories from the artists, Click Here.
GeekTyrant Homepage