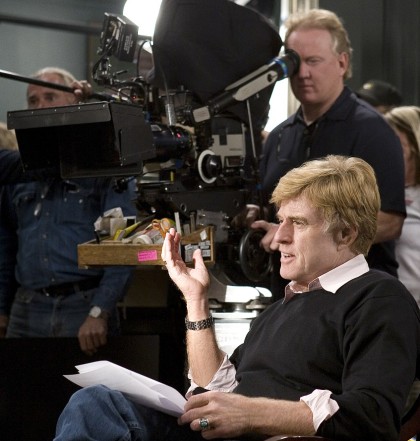 We reported last week that Justin Long would be making his dramatic debut by joining the cast of Robert Redford's historical drama The Conspirator. ThePlaylist also reports that Evan Rachel Wood(The Wrestler) and Toby Kebbell(Control/Rock N' Rolla) have also joined the project, and give us our first glimps at Wood and James McAvoy in the film.

The Conspirator stars Robin Wright Penn as Mary Surratt, the lone female charged as a co-conspirator and accomplice in the conspiracy to assassinate Abraham Lincoln. When the nation turns against her, she is forced to rely on her reluctant lawyer Frederick Aiken(McAvoy), to uncover the truth and save her life.

Wood is playing Anna Surratt, Mary's daughter, Long plays a disfigured soldier who is Aiken's best friend, and Kebbell will have a minor but obviously important role as the infamous John Wilkes Booth.

The Conspirator marks Redford's return to the directing chair since 2007's Lions for Lambs.

Check out the set photos and let us know what you think!
Eli Reyes
— Editor/Writer. Movie trivia junkie. RIAA-certified Gold record awarded recording artist. Suggested they drop the "The" from "The GeekTyrant" before being told there was no "The" in GeekTyrant to begin with.
@ElijahReyes
|
ElijahReyes@GeekTyrant.com