Do you see what I see? Or should I say... do you notice what we don't see? You can click on the image above for a super hi-res version and play Where's Waldo or you can look at the pic below. Does this Season 5 promo pic give us a hint into what's in store for us in the 6th and final Season of LOST???

SuperSonicElectronic exclaims:
OH MY GOD!!!!! This is from the Season 5 promo photo and it is NOT photoshopped, I mean it is, but, completely on purpose by the Producers of LOST!!! There's some more time travel coming up LOST fans!!

Is actor Jeremy Davies' just wearing black socks? Or is his Daniel Faraday character clearly missing the same foot that is left of the broken statue? It's a stretch, but make of it what you will.

Check out the picture and let us know what you think!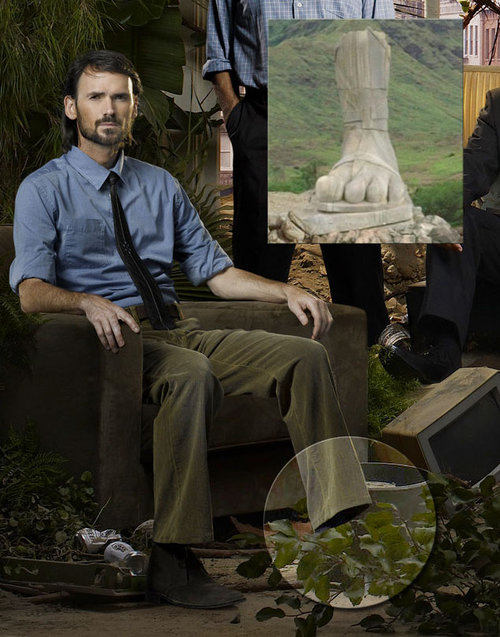 via: AgentMLovesTacos
UPDATE:
"You" directs us to the true originator of the pic, Docarzt, who also offers up a very in depth theory to what this could all mean. Thanks you.
Eli Reyes
— Editor/Writer. Movie trivia junkie. RIAA-certified Gold record awarded recording artist. Suggested they drop the "The" from "The GeekTyrant" before being told there was no "The" in GeekTyrant to begin with.
@ElijahReyes
|
ElijahReyes@GeekTyrant.com