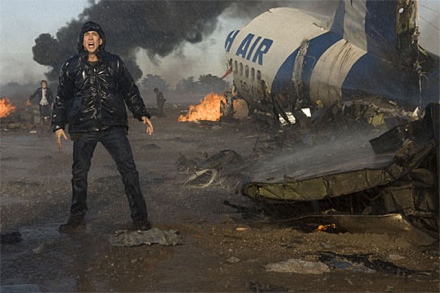 We have the first film clip from Alex Proyas next film starring Nicholas Cage 'Knowing'. The clip is titled 'Subway' for the fact that Nicholas Cage runs down into the subway and onto a train to warn people that something bad is about to happen. Of course no one listens and chaos ensues.

I am really looking forward to this movie, I am a big fan of Alex Proyas' work, he knows how to tell a good story. As for Nic Cage being in the movie, the guy has obviously had his hits and misses. There is a good actor in him, it just takes the right story and director to bring it out. He still has yet to top his performance in 'Raising Arizona'. Check out the 'Knowing' film clip below and let us know what you think.



A teacher (Cage) opens a time capsule that has been dug up at his son's elementary school; in it are some chilling predictions -- some that have already occurred and others that are about to -- that lead him to believe his family plays a role in the events that are about to unfold.

Knowing opens up in theaters March 20th.
Joey Paur
— Co-Founder / Editor of GeekTyrant.com, and if you haven't noticed I write… a lot. Movies are my passion and I live and breathe all things geek. This site is part of my life's work, it's a part of me. I love what I do, and I enjoy sharing everything I can with you when it comes to movies and geekery. In my spare time I travel to the netherworlds to battle demons. @JoeyPaur | joeypaur@geektyrant.com