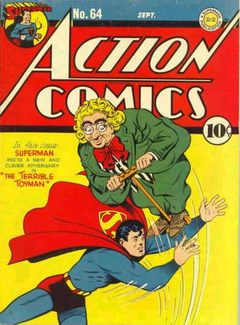 A description of the latest Smallville episode reveals that a classic Superman villain from the comic books named the Toyman is going to make a appearance on Smallville. This is revealed on the description of the next episode on the CW website. The title of the new episode is 'Requiem'.

An explosion at LuthorCorp kills all the Board members and injures Oliver (Justin Hartley), who was there to announce the merger of his company with LutherCorp. Oliver believes that Lex is responsible for the blast, but Clark (Tom Welling) and Lana (Kristin Kreuk) learn that the bomber is Winslow Schott (guest star Chris Gauthier), a toymaker and former Queen Industries employee with a grudge against Oliver.

Michael Rohl directed the episode written by Holly Henderson & Don Whitehead.

I like the Toyman! I think he is going to be a great villain and I am happy to see WB wants to bring this cool little character to life. Here is a little description of how the Toyman rolls.

The Toyman uses toy-based or toy-themed devices and gimmicks in his various crimes. The Toyman's weapons, while sometimes comical, are also very dangerous. The Toyman's creations include devices such as life-sized wind-up tanks, acid-spraying water pistols, and toy soldiers that carry real guns. The Toyman usually dresses in a flamboyant costume. The Toyman made frequent appearances in the Golden Age comics, but has appeared infrequently in Superman stories since then.

Being a Toy collector myself I am pretty excited about this.
Featured Posts on GeekTyrant