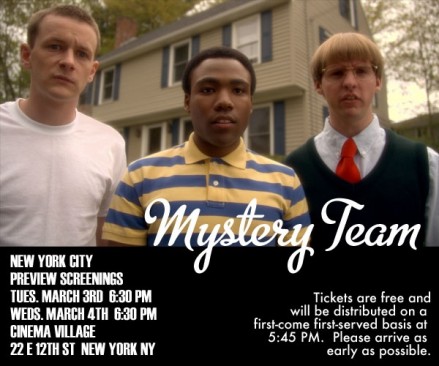 If you currently reside in New York you have a fantastic opportunity to go see an incredibly funny film! The movie is called Mystery Team and I got a chance to see this film up at Sundance this year. It was one of the best films I saw while I was there and as far as I know the movie still has not been sold, which just pisses me off!

Derrick Comedy is holding two advance screenings of the film on Tuesday March 3rd and Wednesday March 4th at Cinema Village (22 E 12th St) at 6:30pm. Tickets are free and will be distributed on a first-come first-served basis at 5:45pm. Arrive as early as possible to ensure you get a ticket! Its a free! Go!

Here is the trailer for the film and my review.


Joey Paur
— Co-Founder / Editor of GeekTyrant.com, and if you haven't noticed I write… a lot. Movies are my passion and I live and breathe all things geek. This site is part of my life's work, it's a part of me. I love what I do, and I enjoy sharing everything I can with you when it comes to movies and geekery. In my spare time I travel to the netherworlds to battle demons. @JoeyPaur | joeypaur@geektyrant.com