Hey Gang, I got a couple production photos here to show you from Rob Zombies Halloween sequel. The above picture is of Laurie Strode being played by Scout Taylor Compton. She looks like she has gone through hell! I don't know if you can tell or not but her face is bashed up pretty good, she even has a chipped tooth. According to director Rob Zombie according to his blog this is the least of her problems, Zombie says:
"let's just say this is the best part of her stay [at the hospital]. The worst is yet to come."

It will be interesting to see what Zombies vision of the sequel will be, you may or may not remember that the original sequel is also partially set in a hospital. By the way, I hate Hospitals. Also confirmed on his blog Malcolm McDowell will reprise his role as Dr. Loomis. The film is currently shooting in Georgia.

I really didn't enjoy the first Rob Zombie Remake, but I did see it and I will end up seeing this one as well. Why? Because I love horror movies. I will say this, I liked Zombies 'Halloween' remake more than the 'Friday the 13th' remake.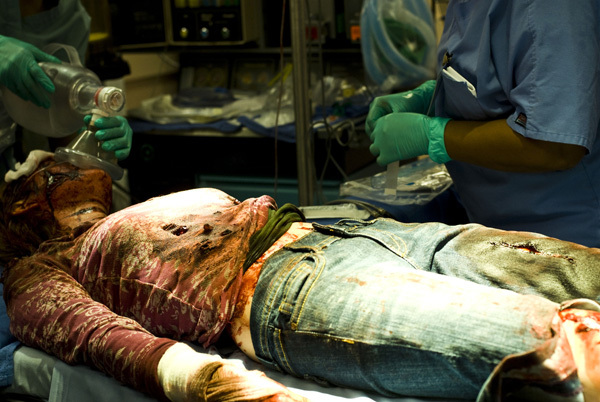 Source: /film
Joey Paur
— Co-Founder / Editor of GeekTyrant.com, and if you haven't noticed I write… a lot. Movies are my passion and I live and breathe all things geek. This site is part of my life's work, it's a part of me. I love what I do, and I enjoy sharing everything I can with you when it comes to movies and geekery. In my spare time I travel to the netherworlds to battle demons. @JoeyPaur | joeypaur@geektyrant.com