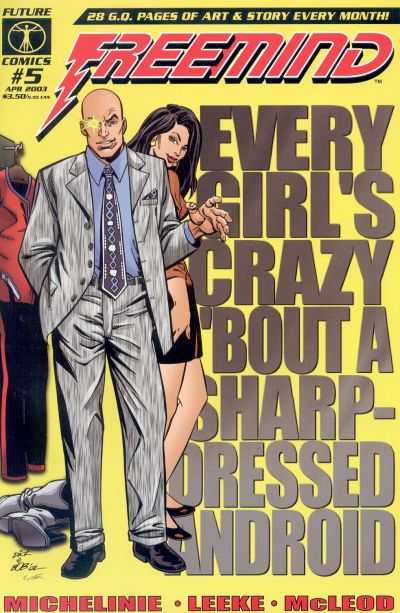 Looks like we've got another comic book that is going to get made into a major motion picture! It is called 'Freemind' It also has a director attached to it. Award winning director David Nutter has already signed on to direct the film. Nutter is a TV director making his leap into his first big-budget motion picture. He is best know as a director and producer on the 'X-Files' series he has also gone on to direct TV shows such as 'Smallville', 'Terminator: The Sarah Connor Chronicles', 'Supernatural', and also won multiple Emmy Awards for his work on 'The Sopranos', and 'Band of Brothers'. The guy has worked on some of televisions best shows and from what I have seen of his stuff, I think he's got it in him to develop 'Freemind' into a really good movie.

'Freemind' producer Michael Uslan talks to MTV about the director and the project. Here is what he has to say:

"[Nutter] is a very character-driven director, This was a very non-comics comic book, based purely around a character - so he's the perfect person for it."

'Freemind' was created by Bob Layton, David Michelinie, and Dick Giordano who also wrote the 'Iron Man Demon in a Bottle' storyline. The series chronicles the adventures of a wheelchair-bound genius who creates an android body in order to live normally, only to discover that he has superhuman powers when occupying the alternate body. Uslan goes on to explain:

"You know how humans use only 5 percent of their brain? He ends up transferring 100 percent of his mind, so when he goes into this new body, suddenly he has powers that he never thought he would - mental telepathy, psychokinetic powers, etc, The only problem is, he doesn't want these powers. He just wants to be a typical human being. He doesn't want to have all these powers and be responsible like Peter Parker"

Apparently this movie has been trying to get off the ground since 2003 back then before Iron Man and The Dark Knight co-founder of Metrostop Entertainment Robert Keyghobad who wanted to make the movie said 'Freemind' is "an original work that speaks to you." and that it would be "leading the charge in Hollywood", and is "more than your traditional story of good vs. evil... filled with magic, a unique setting and incredibly complex and dark characters, incredibly cerebral and character driven comic that reflects the expansion of the human spirit." It looks like after all this time it is finally going to see the light of day.

I wish the project the best of luck. I would like to see how they end up developing the project.
Featured Posts on GeekTyrant