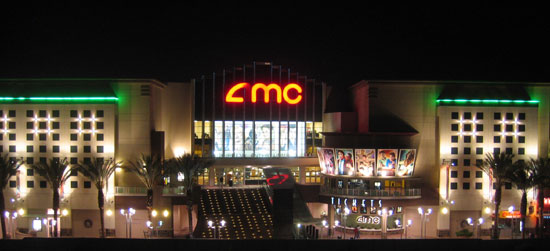 Hey Gang! The weekend is upon us which means we get a handful of new movies we can go out and watch! We have a decent selection this week, but out of all the movie coming out I am excited to see 'Coraline' in 3D with the kids, a cool little martial arts film called 'Chocolate', and then 'He's not that into you', with the wife. A bunch of people went and saw 'Push' last night but so far the feedback has been negative which is what I expected it to be. Then Fanboys has finally been released! Check out the list of movies coming out this weekend below and give us your picks!
Push

Cast: Chris Evans, Dakota Fanning, Camilla Belle

Push is a sci-fi thriller that takes us into the secret world of psychic espionage. Our hero is Nick Gant (Chris Evans), a young man whose father was genetically altered to be the perfect government assassin. After the brutal murder of his father, Nick swears revenge on the agency that created him.

Hidden in the underworld of Hong Kong, Nick assembles a group of rogue psychics to defeat Division, the covert agency responsible for creating and experimenting with psychic drugs for decades.

Nick teams up with Cassie Holmes, a thirteen-year-old girl who can see the future, to track down a missing girl and a stolen suitcase that could potentially bring the downfall of Division — the key to their mutual revenge. Combining their skills, they outwit assassins and learn about Division's latest secret weapon — a powerful and new experimental drug called R16, which could shift the tides of psychic warfare



Push just looked like a awful and silly film. After watching some of those clips I just couldn't take this movie seriously because they seem like they are trying to be serious.
He's Just Not That Into You

Cast: Ben Affleck, Jennifer Aniston, Drew Barrymore

The Baltimore-set movie of interconnecting story arcs deals with the challenges of reading or misreading human behavior. Jennifer Connelly plays a woman stuck in a tired marriage with Cooper's character. Kevin Connolly, meanwhile, is a man pining after a woman, still not cast, who is having an affair with Cooper.

Goodwin is a young woman obsessed with Kevin Connolly's character who tries to set up accidental meetings with him only to run across his friend, played by Long, who takes her on as a "My Fair Lady" experiment.

Barrymore plays a woman perpetually confused by dating, now more than ever in a culture that is more obsessed with technology than actual human contact.



This looks like the perfect date movie. I like myself a good romantic comedy, it's rare when a good one actually gets made, but this looks like it could be good.
Coraline 3D

Cast: Dakota Fanning, Ian McShane, Teri Hatcher

From Henry Selick, visionary director of The Nightmare Before Christmas, and based on Neil Gaiman's international best-selling book, comes a spectacular stop-motion animated adventure – the first to be originally filmed in 3D!

Coraline Jones (Dakota Fanning) is bored in her new home until she finds a secret door and discovers an alternate version of her life on the other side. On the surface, this parallel reality is eerily similar to her real life and the people in it – only much better. But when this seemingly perfect world turns dangerous, and her other parents (including her Other Mother voiced by Teri Hatcher) try to trap her forever, Coraline must count on her resourcefulness, determination and bravery to escape this increasingly perilous world – and save her family.



I have been waiting for this one as have the kids and now the time is here to be able to watch this great 3D stop motion animated film.
Pink Panther 2

Cast: Steve Martin, Jean Reno, Alfred Molina

The Pink Panther 2, the sequel to the 2006 worldwide hit, stars Steve Martin as he reprises the role of intrepid-if-bumbling French police detective, Inspector Jacques Clouseau. When legendary treasures from around the world are stolen, including the priceless Pink Panther Diamond, Chief Inspector Dreyfus (John Cleese) is forced to assign Clouseau to a team of international detectives and experts charged with catching the thief and retrieving the stolen artifacts.

Martin is joined by original co-stars Jean Reno (as Ponton, his partner) and Emily Mortimer (as Nicole, the object of his awkward affections). The investigative dream team is played by Andy Garcia, Alfred Molina, Yuki Matsuzaki (Letters from Iwo Jima) and Bollywood star Aishwarya Rai Bachchan. The story is set in Paris and Rome.



It looks just as bad as the first one which I still haven't seen.
Chocolate - Limited

Cast: Jeeja Vismistananda, Ammara Siripong, Hiroshi Abe

The director of ONG BAK, Prachya Pinkaew returns with his new protégé, Jeeja Vismistananda, who was in training for five years for this role. Jeeja portrays an autistic girl who learns martial arts from watching Tony Jaa and Bruce Lee films so as to exact revenge on those who bankrupted her mother.



This movie looks like it will be a lot of fun, I am much more interested in watching this instead of Push, too bad it only got a limited release. I am going to find it and watch it.
Fanboys - Limited

Cast: Sam Huntington, Dan Fogler, Jay Baruchel

It's 1998 and Star Wars fanboys across the globe eagerly await the release of Episode I. But for Eric, Linus, Hutch and Windows the term "fanboy" is more than just a title, it's a badge of honor. Spurred by impatience and an undying loyalty to their cause, these former high school friends reunite to undertake the road trip of their fan-tasies. Traveling West across the country to visit their Mecca - George Lucas' Skywalker Ranch - the plan is to break in, steal the film and stake their claim as the first fanboys in history to watch it. But to secure their place in the fanboy hall of fame, they'll have to contend with bizarre bikers, a crazy pimp, a deranged group of trekkies and the quiet intensity of William Shatner



It's about freakin time this movie came out! I have seen this movie and I loved it, not sure what the non Star Wars fan will think about it but then its really not made for them is it.
The Objective - Limited

Cast: Jonas Ball, Jon Huertas, Matthew R. Anderson

Afghanistan, November 2001. Two months after the attacks on the World Trade Center. A highly trained special forces team is sent into the Afghanistan desert to make contact with a man known as "Mohammed Aban". Instead they find something else...something that even their elite training hasn't prepared them for.

From the acclaimed director of The Blair With Project, The Objective, follows Ben Keynes (Jonas Ball), a CIA operative allegedly sent to pave the way for success in the war in Afghanistan. Part covert military operation, part personal journey, Ben leads his assigned team into one of the most uninhabitable and isolated regions on the planet.

As the situation rapidly begins to disintegrate, each member of the team finds themselves asking the same question: Who is the real enemy?



This movie looks really interesting and I want to see it. It got a limited release but you can also watch it on the new IFC On Demand channel which is pretty cool. So if you have the IFC On Demand Channel you may want to check it out.
Featured Posts on GeekTyrant