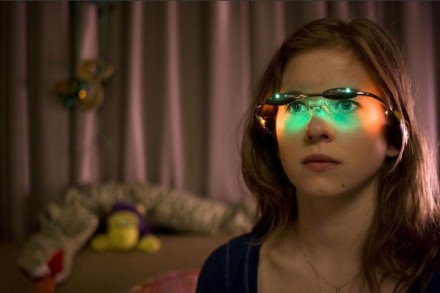 I just can't get over how silly Syfy is. But today we have seven new clips from their new show Caprica. This show is not getting a lot of love from the sci-fi Battlestar Galactica community right now. I can see why, but I also think it has great potential, and will tell a very interesting story.

An astonishing breakthrough is taking shape on the planet Caprica. The rapidly evolving spheres of human and mechanical engineering have collided, along with the fates of two families. Joined by tragedy in an explosive instant of terror, two rival clans led by powerful patriarchs, Joseph Adama (Esai Morales) and Daniel Greystone (Eric Stoltz) duel in an era of questionable ethics, corporate machinations and unbridled personal ambition as the final war for humanity looms. The latest phenomenon from the executive producers of Battlestar Galactica (Ronald D. Moore and David Eick), set in a time over 50 years earlier, Caprica is entirely its own world - provocative, thrilling and startling relevant to our own.

Check out the film clips below. I hope you all give it a chance. If it ends up be really bad, then even I will tune out, but for now I hold out for hope of another good show to watch.
Sorry everyone it looks like the video clips have been removed from Youtube.
Joey Paur
— Co-Founder / Editor of GeekTyrant.com, and if you haven't noticed I write… a lot. Movies are my passion and I live and breathe all things geek. This site is part of my life's work, it's a part of me. I love what I do, and I enjoy sharing everything I can with you when it comes to movies and geekery. In my spare time I travel to the netherworlds to battle demons. @JoeyPaur | joeypaur@geektyrant.com