Lights, camera, were rolling, action! KA - BOOM!!




The photo above is the first official photo from Sylvester Stallone's new movie 'The Expendables' and it looks like we are going to get some great old fashion real life explosions in there. The two people in the classic jumping off a dock during an explosion shot is of Eric Robets and Steve Austin. I have a feeling this movie is going to be very exciteing. If it's anything like the last Rambo film then we are really in for a good treat. Eric Robert says of the experience:
Today I was attacked by Jason Statham firing a machine gun from a dive-bombing fighter plane, nearly burned alive by napalm and had to leap into the freezing Bay of Mangaratiba to save my ass. And how was your day???

The Expendables is currently shooting in Brazil and is scheduled for an April 23, 2010 release date. If you need a reminder of who else is staring in the film you got, Jason Statham, Mickey Rourke, Arnold Schwarzenegger, Jet Li, Dolph Lundgren, Brittany Murphy and Charisma Carpenter.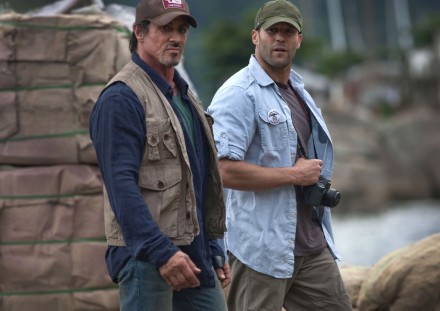 Source:/film and Ain't It Cool News
Joey Paur
— Co-Founder / Editor of GeekTyrant.com, and if you haven't noticed I write… a lot. Movies are my passion and I live and breathe all things geek. This site is part of my life's work, it's a part of me. I love what I do, and I enjoy sharing everything I can with you when it comes to movies and geekery. In my spare time I travel to the netherworlds to battle demons. @JoeyPaur | joeypaur@geektyrant.com