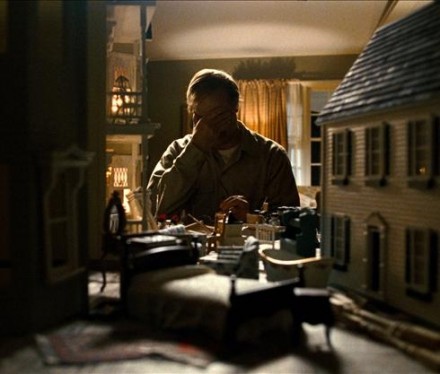 We have our first look at Peter Jackson's next film 'The Lovely Bones'. I am really looking forward to this movie it is such a great story, but has a very heavy subject matter. The movie is about a young 14 year old girl Susie who is raped and murdered by her neighbor. While she is in heaven, Susie watches her family deal with her death, and the guy who murdered her try to hide the evidence from everyone. The photo above is of Stanley Tucci as George Harvey, who is the murderer. It is such an intense story. I read the book last year and it blew me away. I was wondering how Jackson would end up visualizing heaven in conjunction with the living world, because the way they interconnect with each other in the book is really interesting. I love the photo below. It looks like something that may end up on the poster. Peter Jackson Says:
"It's God-less in the sense that when Susie dies, she finds herself caught in a place between Earth and heaven — she is in an 'In-Between,' as Alice Sebold calls it."

The movie stars Mark Wahlberg as Susie's father, Rachel Weisz her mother, Stanley Tucci the neighbour and Susan Sarandon the family's grandmother. The book was written by Alice Sebold and adapted by Peter Jackson, Fran Walsh and Philippa Boyens. Peter Jackson is directing.




Source: Empire , USA Today
Joey Paur
— Co-Founder / Editor of GeekTyrant.com, and if you haven't noticed I write… a lot. Movies are my passion and I live and breathe all things geek. This site is part of my life's work, it's a part of me. I love what I do, and I enjoy sharing everything I can with you when it comes to movies and geekery. In my spare time I travel to the netherworlds to battle demons. @JoeyPaur | joeypaur@geektyrant.com