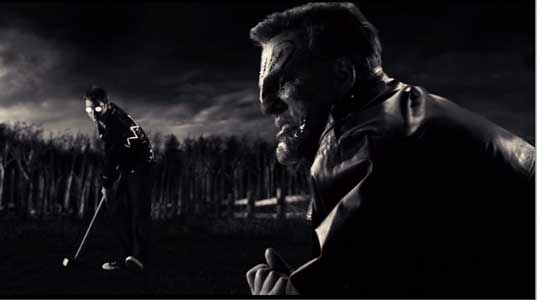 The latest update on the Sin City sequel is that the Weinstein Company has lost the rights to the property. Is this a good thing or a bad thing? The Weinstein's aren't doing to hot right now so in my opinion I thing them losing the rights will increase the chances of the film actually being done, and marketed properly. They went from being a great a dynamic film team to the guys that mismanage their films. The movie 'Fanboys' is a perfect example.

As you know by now Frank Miller has come out and talked about the film and that a script is currently being worked on. There is no work yet on whether or not Robert Rodriguez will be back to direct the film. If for some reason he does not do it, I hope to high hell anyone other than Frank Miller directs it.

Rodriguez's Trouble Maker Studio's is still on to produce the film.But it is now being financed by a private equity group. No word yet on who will distribute the film but IESB throws out Universal Pictures as a possible contender.

I loved the first Sin City flick it was a badass fun movie. I am looking forward to the sequel. Are you?
Joey Paur
— Co-Founder / Editor of GeekTyrant.com, and if you haven't noticed I write… a lot. Movies are my passion and I live and breathe all things geek. This site is part of my life's work, it's a part of me. I love what I do, and I enjoy sharing everything I can with you when it comes to movies and geekery. In my spare time I travel to the netherworlds to battle demons. @JoeyPaur | joeypaur@geektyrant.com