Hey Gang! Here are a bunch of new photos from Guy Ritchies next movie 'Sherlock Holmes' starring Robert Downey Jr., Jude Law, and Rachel McAdams. I really hope this movie is good. From what I hear it isn't anything like you expect it to be. It would be nice if Guy Ritchie made another really good film, because I really haven't enjoyed anything he has done since 'Snatch'. I really like what I am seeing in these photos. There is a great article over at USA Today that gives a little set report from London. You should check it out. I have posted a few little quotes from it below.


After 73 days of shooting what Warner Bros. hopes is not only a holiday blockbuster but the launch of a franchise, the actors are comfortable enough in their personas that improvising in character is a breeze. "Initially, we were just infusing the dialogue with Doyle-isms," says Downey, who dons a jaunty fedora and oft-disheveled attire in a break from more conservative portraits of the gumshoe. Law, a rather trim Watson who is more of a brawler than a bumbler, kept a notebook handy with scribbled phrases from the original tales just in case.

"Now we tend to speak a little more on his behalf," Downey says, referring to Sherlock's inventor. "Truth be told, we have been working our tokheses off. We've been at it for a long, long, long time."
"We are trying to make a fun adventure movie," he says. "My favorites are the Bond films. Raiders of the Lost Ark. I want to make a movie like that."
"The physicality, the bare-knuckle fighting, the martial arts are all hinted at in the books," he says. "We just hold a magnifying glass over them. A word that Conan Doyle uses an awful lot is 'apprehended.' As in, 'Holmes and Watson apprehend the villain.' We get to show the apprehension."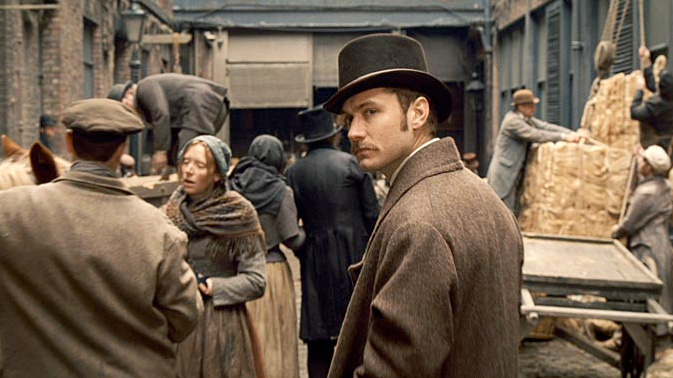 "Guy is a great filmmaker. He reinvented a whole genre, the gangster genre. That is a great achievement. I used to pitch this as a Guy Ritchie version of a Sherlock Holmes movie. There was never any question that he would be an absolutely perfect fit for it."
"Sherlock was perceived as stuffy and old-fashioned," says Lionel Wigram, a producer on the Harry Potter series who initiated the revival about a decade ago. "I thought the TV ones (including, most recently, those starring Jeremy Brett and Rupert Everett) were wonderful, but in a Masterpiece Theatre kind of way. It felt like there was a great opportunity to do something bigger than that."


I'm looking forward to this movie. It's Sherlock Holmes! And a badass Sherlock Holmes at that. You really can't go wrong unless the story and script suck. At least we know the acting will be good.




Are you looking forward to it?

Source: USA Today
Featured Posts on GeekTyrant