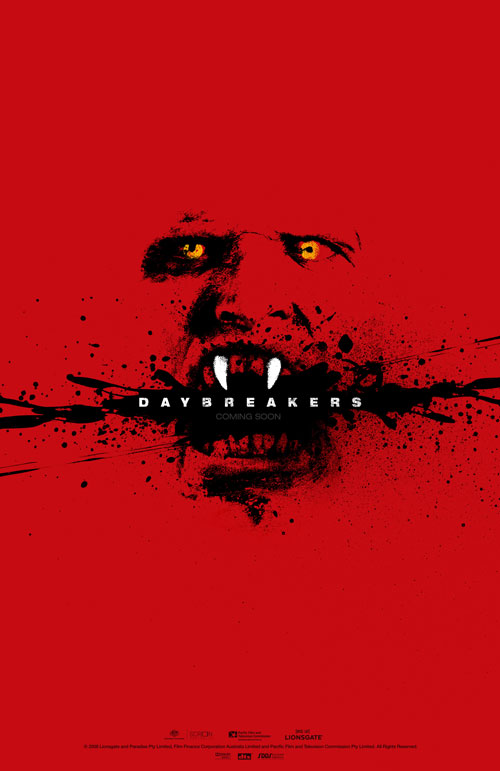 Lets face it, vampires are awesome and right now there are a ton of new movies and TV shows that are being developed that revolve around the mythical creatures of the night. The vampire trailer I am bringing you today is for a film called 'Daybreakers' and it sure does look like it is going to be allot of fun. Sure, its a formula movie with cheesy dialogue but I like what I see.

The movie stars Ethan Hawk, William Dafoe, Isabel Lucas, and Sam Neil. So the cast alone makes the film worth seeing, but wait until you see the trailer. It got nice dark tone and some great visuals with a story that seems like it would be cool.

The story follows Edward Dalton, a researcher in the year 2019, in which an unknown plague has transformed the world's population into vampires. As the human population nears extinction, vampires must capture and farm every remaining human, or find a blood substitute before time runs out. However, a covert group of vampires makes a remarkable discovery, one which has the power to save the human race.

'Daybreakers' is set to be released on January 8, 2010. Check out the trailer below and tell us what you think about. Are you in or out?


Joey Paur
— Co-Founder / Editor of GeekTyrant.com, and if you haven't noticed I write… a lot. Movies are my passion and I live and breathe all things geek. This site is part of my life's work, it's a part of me. I love what I do, and I enjoy sharing everything I can with you when it comes to movies and geekery. In my spare time I travel to the netherworlds to battle demons. @JoeyPaur | joeypaur@geektyrant.com