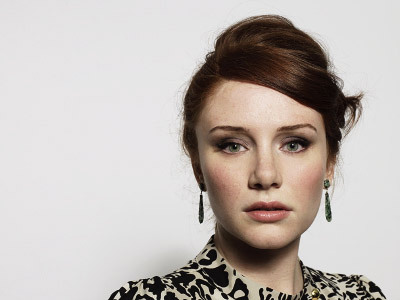 Bryce Dallas Howard pretty much has it all: Beauty, brains, did I mention beauty? and a POWERFUL father. Yes, her dad is none other than Director Ron Howard. And in a world full of Coppola's (Francis Ford, Sofia, Roman), and closeted Coppola's (Nic Cage, Jason Schwartzman) it's nice to see another family Dynasty in Hollywood.

THR just reported that Bryce's script "Originals" which she penned with writing partner Dane Charbeneau, just got picked up by Universal. So who do you think is in talks to direct? I'll give you one guess. That's right! Chuck Norr... I mean Ron Howard. The "Frost/Nixon" director, who is just coming off promoting his latest 'Angels and Demons' movie, has yet to pick a new gig to helm. And 'Originals' is on a short priority list for Ron, along with his next project "Colossus," a sci-fi thriller about a supercomputer,

"Originals" is about a group of twenty-somethings who reconvene for a weekend in New York after learning that the teacher who shaped their childhoods has fallen into a mysterious coma. The film is an ensemble that takes place in a weekend? If the tone is anything like such ensemble films as "Empire Records" or "Go" then count me in.

Bryce, who has starred in such films as "The Village" and "Spiderman 3", began writing the script a few years ago with Charbeneau and continued throughout the birth of her son, and the filming of "Terminator: Salvation". Wow! Something good may come out of that movie after all. Zing!

They also report that:
"Originals" also became more of family affair during the writing process, as Charbeneau began dating Howard's sister Jocelyn. The two are now are engaged.

Dipping the pen in the company ink? You need to chill out.
Howard... and Charbeneau eventually showed it to Ron Howard, who saw it as a potential antidote to the huge productions for which he is known.

If you're Ron Howard, is there any way you can say 'no' to this film? Dane Charbeneau wrote it with your daughter, and is now ENGAGED to your other daughter!!! Well played Dane, well played.

Nepotism aside, Ron Howard is a smart guy and wouldn't take something on if it wasn't good. Has he ever made a bad film? It would be interesting to see how Ron takes on a small film like this. What do you think?

Source: THR
Featured Posts on GeekTyrant