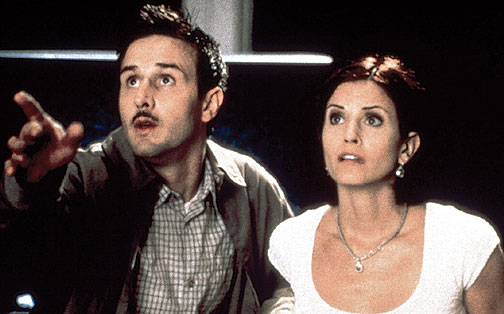 Halloween-Costume store owners are rejoicing everywhere. Our favorite ghost faced killers are back for the 4th installment of Scream. E! recently spoke with David Arquette, and he confirmed that he and his wife Courtney Cox, will be back to reprise their roles.
We are going to be doing Scream 4. Kevin Williamson is writing the script at this moment, and hopefully Wes Craven is going to direct.

I fell in love with my wife on Scream, so the opportunity to bring [Dewey] back to life and for my wife to play that really bitchy character again, it's just going to be really fun, it's just great.

Arquette played Deputy Dewey Riley, and Cox played reporter Gale Weathers. While Neve Campbell has turned down the opportunity to again star as Sidney Prescott, Arquette says:
I hope Neve does it. I really hope so.

Arquette went on to say that he couldn't reveal anything about what Williamson, who wrote two of the three previous films, has in store for the script. We'll keep you up to date on all the Scream news as it breaks! So are you glad the Arquette's are returning?
Eli Reyes
— Editor/Writer. Movie trivia junkie. RIAA-certified Gold record awarded recording artist. Suggested they drop the "The" from "The GeekTyrant" before being told there was no "The" in GeekTyrant to begin with.
@ElijahReyes
|
ElijahReyes@GeekTyrant.com