EW's Comic

Comic-Con is next week and there is going to be a ton of awesome news and footage spilling onto the internet, so much great stuff you will hardly be able to contain yourself. We will be there every step of the way filling you in with the latest and greatest! And today we have some Comic-con sneak peeks to show you thanks to EW, and there Comic-Con preview issue!

So here is some of the stuff those of you going to Comic-Con have to look forward to!

Iron Man 2 Footage! I think fans are going to be very happy with what they see. The film comes out May 7, 2010.




Tim Burtons Alice in Wonderland! How can you not be excited for this one! This is one of those stories that Tim Burton was born to tell. It comes out March 5, 2010




Zombieland! Because who doesn't like a good old fashioned zombie comedy? Zombie kids freak me out. October 9, 2009.




2012! See director Roland Emmerich once again destroy famous cities and monuments in new and different ways.




Shane Acker's 9! The CGI animated movie looks absolutely fantastic! September 9, 2009.




Pandorum! This sci-fi horror flick looks like it's going to be a lot of fun! September 18,2009




Stargate Universe! This is the new Stargate series that will be on the newly named SyFy Channel.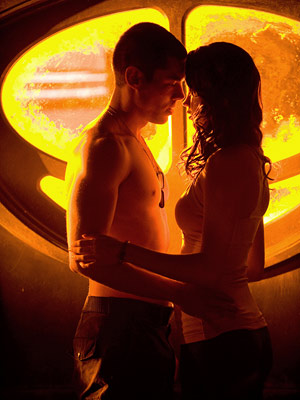 Thirst! This crazy looking Korean vampire flick comes from the director of Old Boy Park Chan-Wook. July 31, 2009.




Kick-Ass! I'm very excited for this film!




Head on over to EW to check out the details of these films, and a few other pics from some films and TV shows.
Joey Paur
— Co-Founder / Editor of GeekTyrant.com, and if you haven't noticed I write… a lot. Movies are my passion and I live and breathe all things geek. This site is part of my life's work, it's a part of me. I love what I do, and I enjoy sharing everything I can with you when it comes to movies and geekery. In my spare time I travel to the netherworlds to battle demons. @JoeyPaur | joeypaur@geektyrant.com