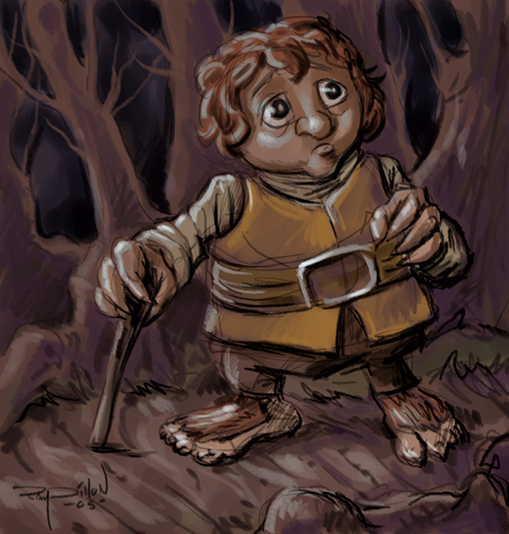 This morning the gents at theonering.net attempted to separate fact and fiction in the rumors swirling around the upcoming Hobbit films and offered some speculation based on the available information. They're in a position to know a bit more than most of us because Guillermo Del Toro, the director, frequently posts to their message boards. It's still very early days; the script's first draft is not complete yet. The movies will most likely begin pre-production this fall, shoot 2010, and be released Holiday 2011 and Holiday 2012. So we're a long way off.

But there are a few things we do know. Ian McKellan, Hugo Weaving, and Andy Serkis have expressed their willingness to reprise their roles as Gandalf, Elrond, and Gollum. Ian McKellan sent Comic-Con goers a message: "Just tell them, I'm waiting for the call from Middle Earth." Andy Serkis says he's in "very exciting talks" with Del Toro and "it's looking very likely [he'll] be returning to Middle Earth." Del Toro has also talked at great length about the artist's he's working with to create The Hobbit's aesthetic. Lord of the Rings artists John Howe and Alan Lee have been to New Zealand. Mike Mignola, creator of Hellboy, is working on dwarves and goblins. Wayne Barlowe, Oscar Chichoni, and Francisco Ruiz will contribute, as well as WETA Workshop and Spectral Motion.

Most speculation is centered around the narrative structure. The Hobbit is a plodding episodic children's book, and no one's quite sure how that will transfer into two blockbuster movies. Reports that information from Appendices A, B, C, and D will be included in the film led to some musings that one movie would contain the whole of The Hobbit while the other dealt with the History of Middle Earth, but Guillermo Del Toro has announced that the story of The Hobbit will be split into two films. Del Toro maintains that there is a very natural pause in the story, obvious to anyone who has read the book. No one can agree what this might be, but there seem to be two prevailing theories. One, part one will conclude after the finding of the Ring and the riddle game with Bilbo's escape from Misty Mountain. The other theory is based on Bilbo's character arc and stipulates that the movie will end after Bilbo frees the Dwarves from the elvish prison. Or it could be somewhere else.

Although it won't comprise a second movie, information from the Appandices will be included, meaning that almost anything in on the table. Will we see the orphaned child Aragorn being raised by Elrond? Will we see the White Council, meaning a return of Galadriel and Saruman? Will Prince Legolas be running around Mirkwood Forest? How much Dwarven history will be included? Is there any chance we'll see Balin reclaim the mines of Moria?

The only person who knew wasn't telling. Richard Taylor, the creator of WETA, was there, and while he showed a few pictures of himself and Del Toro working on designs for The Hobbit, basically everything but their faces was blurred out, so no hints there. Taylor mostly just gave a rundown of current WETA projects. There was no real exciting news of anything, but he did say that Avatar is "one of the most visually exciting films ever."

So basically, after an hour of lsitening I still don't know anything about The Hobbit, except that it's probably going to be kickass, which I knew already. I'm excited though. Anyone else ready to jump in line for 2011?
Featured Posts on GeekTyrant