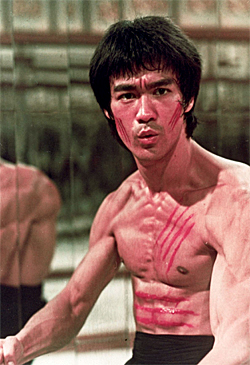 Who can fill Bruce Lee's shoes? Is that possible??? It's still up in the air as to who will take on the role of Lee's Kato in The Green Hornet, after Stephen Chow dropped out of Seth Rogen's remake.

If that's not a tall enough order, how about trying to take on Bruce Lee's most iconic and memorable role? I'm speaking of course about the 1973 martial arts classic, Enter The Dragon.

It was reported a couple years back that Warner Independent Pictures had tapped writer/producer Kurt Sutter (The Shield/Sons Of Anarchy) to write and make his feature directing debut on a noir style remake of Enter, titled Awaken the Dragon.

The original film starred Lee as a martial artist who's drafted by law enforcement to participate in a martial arts tournament and infiltrate a drug smuggling operation run from the host's heavily guarded island.

Sutter describes his vision for Awaken The Dragon by explaining:
I'm a huge noir fan, and this plot lends itself to the film I want to make. I wanted to set it in these underground fight clubs where the action is really raw and expose the brutality of Shaolin Kung fu. This will be more 'Raging Bull' than 'Crouching Tiger' in its viciousness.

Sutter plans to write Awaken as a...
...as a contemporized drama about a lone FBI agent who pursues a rogue Shaolin monk into the bloody world of underground martial arts fight clubs.

Sutter will look to discover a fight star in the role of the monk and cast an established American actor to play the FBI agent. LatinoReview has the scoop that Warner has their eyes firmly set on Ninja Assassin lead, and Korean Pop Singing mega-star Rain to play the monk.

From what I've seen from Rain in Ninja Assassin, I can tell you the guy can kick some major booty. But a lot of the "wow" comes from some of the rich visual effects in that film. Can Rain still hold his own in a raw and gritty environment? And more importantly, can he or anyone fill arguably Lee's greatest role?

I feel that Rain doesn't have the emotional weight that Lee had on screen. The guy is a pretty-boy pop singer for crying out loud! It'd be like having Justin Timberlake star in a remake of a Clint Eastwood's Dirty Harry. But that's just me... What do you guys think of Rain in Awaken The Dragon?
Featured Posts on GeekTyrant