I have yet to make it out to the Florida theme park world of greatness, but Universal Orlando Resort has Revealed what people can expect from the highly anticipated new theme park, The Wizarding World of Harry Potter, which is set to open Spring of 2010. It sounds like it's going to be a lot of fun!

Here is the official Press Release:

ORLANDO, Fla. (September 15, 2009) – Universal Orlando Resort, together with Warner Bros. Consumer Products, today revealed first-ever details about the incredible scope of The Wizarding World of Harry Potter. Universal also announced that the highly anticipated land will open in spring 2010.

Inspired by J.K. Rowling's compelling stories and characters – and faithful to the visual landscapes of the films – The Wizarding World of Harry Potter at Universal's Islands of Adventure will provide visitors with a one-of-a-kind experience complete with multiple attractions, shops and a signature eating establishment. This completely immersive environment will transcend generations and bring the wonder and magic of the amazingly detailed Harry Potter books and films to life.

The expectations of Harry Potter fans are high and Universal Orlando Resort is collaborating closely with J.K. Rowling, Warner Bros. Consumer Products and the Warner Bros. Harry Potter brand team to ensure that The Wizarding World of Harry Potter will be an experience of a lifetime. The Harry Potter films' production designer, Stuart Craig and art director, Alan Gilmore, in cooperation with a corps of artisans from Universal Creative are working daily to construct the most authentic Harry Potter experience possible. Guests will be able to sip Butterbeer in Three Broomsticks, buy Extendable Ears at Zonko's and experience a state-of-the-art attraction that brings the stories of Harry Potter to life in a way never before imagined.

"All of the action and adventures of Harry Potter's world will come to life here at Universal Orlando Resort," said Tom Williams, chairman and CEO, Universal Parks and Resorts. "The Wizarding World of Harry Potter will be unlike any other experience on earth and we can't wait to see the looks on our guests' faces as they enter this rich environment."

"Harry Potter continues to spark the imaginations of fans of all ages and we really have seen the anticipation continue to build for The Wizarding World of Harry Potter," added Brad Globe, President, Warner Bros. Consumer Products. "We are excited to share with fans a first glimpse into the truly enchanted world we are bringing to life with all of our partners at Universal Orlando Resort."


From the front archway of Hogsmeade to the immensity of Hogwarts castle, The Wizarding World of Harry Potter will feature the locations listed below:


At the entrance of Hogsmeade, billowing steam and an iconic whistle signal the arrival of the Hogwarts Express into Hogsmeade station


Across the way is Zonko's, a joke shop with a collection of tricks and jokes, including Extendable Ears, Boxing Telescopes and Sneakoscopes


Honeydukes is next door and full of treats like Chocolate Frogs and Bertie Bott's Every-Flavour Beans


The Three Broomsticks and adjacent Hog's Head pub will feature traditional British fare and drinks including Butterbeer and pumpkin juice


Across from the Three Broomsticks is The Owlery, where owls roost and await their next delivery
The Owl Post sends letters with a certified Hogsmeade postmark and sells official stamps from The Wizarding World of Harry Potter


Ollivanders wand shop is an incredible interactive experience where the wand chooses the wizard
Completing Hogsmeade is Dervish and Banges, the magical instruments and equipment shop featuring Quidditch equipment, Triwizard apparel, Spectrespecs and Remembralls


The first attraction, Dragon Challenge, features a twin high-speed roller coaster with many iconic elements from the Triwizard Tournament


Next is Flight of the Hippogriff, a family coaster simulating a Hippogriff training flight over the grounds of Hogwarts castle


Located in Hogwarts castle, Harry Potter and the Forbidden Journey is a thrilling new state-of-the-art attraction that uses entirely new technology to bring the magic, characters and stories of Harry Potter to life in ways never before experienced


Before exiting back into Hogsmeade, Filch's Emporium of Confiscated Goods is full of Ministry of Magic and magical creatures merchandise, Omnioculars, and even remote control Golden Snitches



"This Universal Creative and Warner Bros. team shares an incredible passion and commitment to making this destination an exceptionally immersive environment that will touch the lives of our guests," said Mark Woodbury, President, Universal Creative.

"The Wizarding World of Harry Potter is yet another way that fans will be able to experience and enjoy Harry Potter for many years to come," said Diane Nelson, President of Warner Premiere, who is also responsible for overseeing the Harry Potter brand team worldwide. "The power of this brand speaks for itself, as the enthusiasm of our dedicated fans around the world continues to grow even stronger as we move into the future."

Universal Orlando Resort is a theme park destination that places you and your family in the heart of pop culture's most incredible and timeless stories – making you the superstar in a world-class adventure story and allowing you to discover your own inner hero. Guests experience two exciting theme parks – Universal Studios and Islands of Adventure as well as Universal CityWalk, a 30-acre restaurant, shopping and nighttime entertainment complex; and three magnificently themed on-site hotels – the Loews Portofino Bay Hotel, Hard Rock Hotel and the Loews Royal Pacific Resort. Flagship experiences featured in the theme parks include "The Simpsons Ride," "Revenge of the Mummy – The Ride," "The Incredible Hulk Coaster" and "The Amazing Adventures of Spider-Man." More information is available at www.universalorlando.com.

Warner Bros. Consumer Products, a Warner Bros. Entertainment Company, is one of the leading licensing and retail merchandising organizations in the world.

Harry Potter continues to be a global phenomenon. The series of books by author J.K. Rowling has been translated into 67 languages with more than 400 million copies sold in over 200 territories around the world. The films, produced by Warner Bros. Pictures, have grossed more than $5.3 billion at the box office worldwide, making Harry Potter the largest-grossing film franchise in history.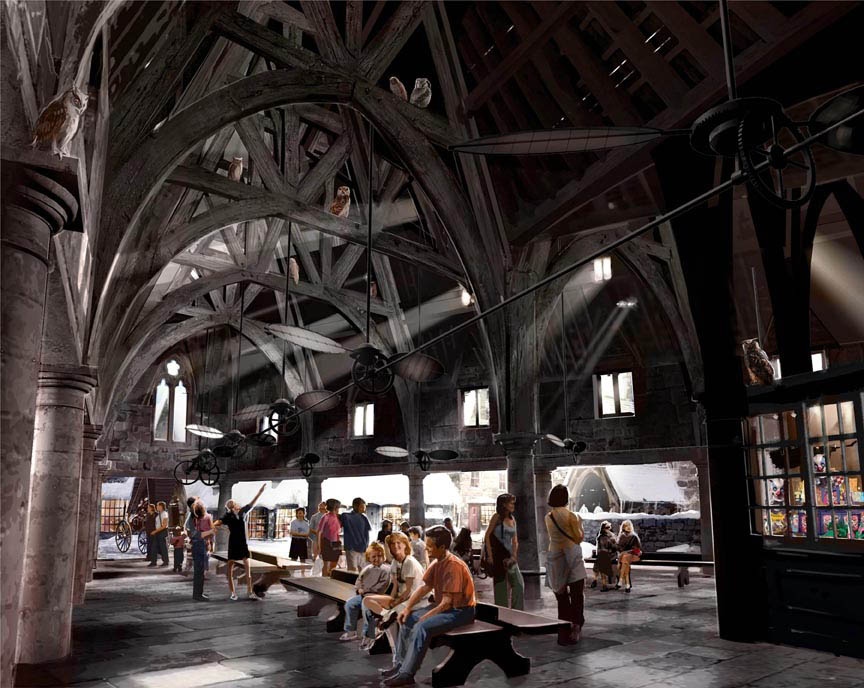 Featured Posts on GeekTyrant