It's like the studio was expecting a boy, and I gave birth to a girl. And now they're learning to love and accept their daughter.

There's a fantastic and epic article that just ran on the NY-Times that gives us an inside look at how close we came to losing this movie.

It chronicles the trials director Spike Jonze went through in order to bring Maurice Sendak's Where The Wild Things Are to the big-screen. Throughout his career, Jonze has stayed true to his vision as an artist-- sometimes he's been given that luxury, often times he's had to fight for it.

The story serves as quite the profile of Jonze's life and work. So instead of just giving you some small snippets of the article by Saki Knafo, I offer a video and picture guide that will serve as an accompaniment. I highly recommend you read the whole article. But if you're like me, then you need some visual stimuli to keep you going!

So whenever there is a mention of a movie, a commercial, a music video, ect. that he's done-- it will be here! I've added the references that precede the videos. They also work seamlessly as explanations, if you want to use this just as an introduction to the work of Jonze's brilliant and illustrious career.

Jonze has spent most of the last ten years on Wild Things, and everything we've seen so far has been mesmerizing and awe inspiring. The Trailer makes the hair stand on my arms EVERY TIME I see it. The Comic-Con footage had me fighting back tears, and the mini documentaries have me amped up and jumping around the room.

Read the article HERE,(which is bookended by references to our blog brothers CHUD, /Film and FirstShowing) and let us know what you think!

Spike Jonze, who is 39, has directed just two feature-length films, "Being John Malkovich" and "Adaptation." Both were critical and commercial successes, praised for their originality and absurd humor, and yet they represent only a small fraction of the work that Jonze's fans admire.

Being John Malkovich Trailer


Adaptation Trailer


His inventive, adventurous style is evident not just in the Hollywood movies he has worked on but also in his videos...skateboard-company promos and TV commercials for companies like Ikea, Nike and the Gap.

Girl Skateboards - Yeah Right!


Ikea Commercial


Nike Commercial


Gap Commercial


Jonze was an executive producer for "Jackass: The Movie," a desultory collection of stunts and pranks that was made for just $5 million and became an unexpected hit, ultimately grossing more than $79 million at the box office.

Spike Jonze, Johnny Knoxville and Bam Margera as old men in Jackass The Movie


The top film and art schools — U.C.L.A., CalArts, N.Y.U. — turned him down. Not that he particularly minded. "I was only going to go to college because that's what I thought you were supposed to do," he told me not long ago. Fortunately, Jonze had a backup plan. In high school, he wrote a handful of freelance articles for Freestylin', a BMX magazine, and when he and his friend reached California, they steered the Colt to Torrance, the industrial city half an hour south of Hollywood where the magazine had its editorial offices. The editors, Andy Jenkins and Mark Lewman, were 21 and 19. They had been looking to hire someone new — not a professional journalist but a BMX kid like themselves, a young person who knew the sport and loved it. They chose Jonze.




Mark Gonzales, a famously innovative local professional skateboarder started his own skateboard company, Blind, he hired Jonze to make a promotional video. Many of the qualities that would come to characterize his work — the roguish sensibility, the technical ingenuity, the formal originality — first appeared in this 24-minute video, titled "Video Days."



One day, in the parking lot at a Sonic Youth show, Gonzales walked up to Kim Gordon, the bassist for the band, and pressed a copy of "Video Days" into her hand. Six months later, Gordon hired Jonze to contribute some skate footage to the video for the band's song "100%."



Jonze and the [Beastie Boys] had been spending time at an apartment in Los Feliz, where the band was hanging out and cultivating an appreciation for afternoon cop shows like "Starsky and Hutch" and "The Streets of San Francisco." One day Jonze showed up at the apartment wearing a white tank-top and a gold chain with a freshly grown mustache and his hair slicked back. According to Jonze, it was the combination of that 1970s outfit and those 1970s television reruns that inspired him and the band to create their very own three-minute 1970s-style police drama. They decided to shoot everything illegally, without permits.



Jonze spent more than a year on the "Purple Crayon" project, supervising a team of storyboard artists and production designers. He planned to combine live action and animation in a way that had never been tried before.



As soon as the project was dropped, Jonze went back to doing what he'd been doing all along: making quick, cheap, whimsical music videos on his own terms, without any studio kibitzers meddling with his ideas. Again and again, Jonze reinvented the form, inserting the members of Weezer into old "Happy Days" footage, hiring child actors to act out a Notorious B.I.G. song, creating a Busby Berkeley-style musical dance number for Bjork.

Click for full Bjork "It's Oh So Quiet" Music Video

Weezer "Buddy Holly" Music Video


Notorious B.I.G. "Sky's The Limit" Music Video


"Being John Malkovich" opened in September 1999 to glowing reviews. It was a big year for Jonze. In addition to "Being John Malkovich," he appeard alongside George Clooney and Ice Cube in "Three Kings."



He won three MTV Video Music Awards, including best director, for Fatboy Slim's "Praise You," a strange and hilarious six-minute fake documentary Jonze shot with a cheap handheld camera outside a movie theater in Westwood.



In July 2006, less than six weeks before the start of shooting, the Henson-built monster suits arrived at the Melbourne soundstage where Jonze and his crew had set up their offices. "They were beautiful," Landay recalled. Then the actors climbed inside and began moving around. Right away, Jonze told me, he could see that the heads were absurdly heavy. Only one of the actors appeared able to walk in a straight line. A few of them called out from within their costumes that they felt like they were going to tip over. Jonze and Landay had no choice but to tell the Henson people to tear apart the 50-pound heads and remove the remote-controlled mechanical eyeballs. This meant that all the facial expressions would have to be generated in post-production, using computers.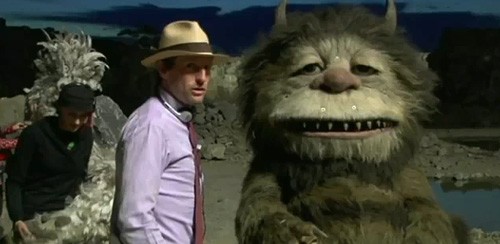 In "Adaptation," a story about the impossibility of telling stories, a depressive screenwriter played by Nicolas Cage struggles to adapt a book without a plot and spends the whole movie trying to escape from Hollywood's confining rules of narrative, which require that there be crisis and resolution and unexpected reversals and a character who by the end of the movie is changed. In desperation, Cage takes a seminar from a famous screenwriting guru, and during the question-and-answer session, he sheepishly asks for help. "What if the writer is attempting to create a story where nothing much happens," Cage says, "where people don't change, they don't have any epiphanies, they struggle and are frustrated, and nothing is resolved?" Wouldn't that be more "a reflection of the real world"?

The guru, played by Brian Cox, flies into a rage.


In nearly all of his works (as in the Torrance of his youth) the realistic and the banal merge with the fantastic and the extreme. To borrow a phrase that Sendak once used to describe his best-known creation, Max, Jonze inhabits a world in which one can "skip from fantasy to reality in the conviction that both exist."

In Jonze's video for Fatboy Slim's song "Weapon of Choice," Christopher Walken does a little soft-shoe in a hotel lobby, and then suddenly, without any warning at all, flies into the air and starts bouncing off the walls.



In the lyrical skate video "Fully Flared," a skateboarder leaps off a graffiti-covered staircase in super-slow motion, and just as he touches down, the staircase explodes, sending him skittering across the ground with frightening force. There are no clear motivations driving the people in these videos, no explanations for their absurd predicaments, and when you watch them, you might wonder whether Jonze's own creative decisions were motivated by anything other than an impulse.



There's a line of "Wild Things" skateboards, and a soundtrack album by Karen O of the art-rock group Yeah Yeah Yeahs.


Featured Posts on GeekTyrant