CHUCK Gets A Full Season!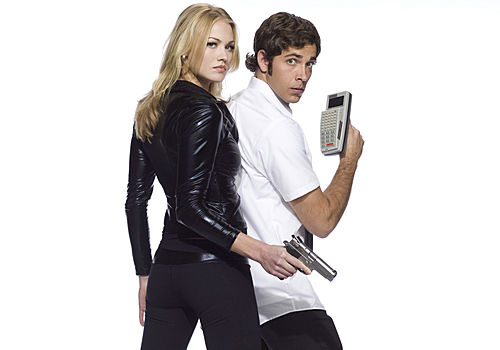 Chuck fans rejoice! NBC announced earlier today that the cool spy action/comedy has been picked up once again for a full season, each season it takes less time to get it's back order! Show Ex. Producer Chris Fedak also says for us to watch out for more mom mythology, Awesome baby and Summer Glau, oh my!
Fedak says the team is always ready for the stories and have them in place ready for how ever how many NBC orders which usually are the full back 9 but the word is NBC might order a total of 11 which will make the fourth season have a total of 24 episodes, heck yeah!
Linda Hamilton will be reprising her role as momma Bartowski and Robert Englund will be on the Halloween episode.
Fedak adds;
"With the return of Mom, we get into the mythology of our show, and then we get into what happened with Mom and the mysteries that surround her, as well as the organization that she has been a part of, the Volkoff Industries, which is our Big Bad this season, And we have some really exciting stuff coming up. We have Timothy Dalton joining the show. He plays Gregory Tuttle, he works for MI6, but he is a handler, not a spy. He's read all the manuals and how-to books, but he's not a field agent
Fedak also added this about Summer Glau;
"My geek, my inner geek, which is also, for myself, my outer geek, was very excited that we were able to get Summer to do the show. She's not only great and scary as our Greta, but she's also quite funny, We're trying to see just how much Hollywood we can get to wear the Buy More green or the Nerd Herd white and black."
And finally Fedak addresses the Awesome baby;
"I would say that Ellie will have her baby most likely by episode 13," We're still breaking that episode right now, but we're really excited to actually have [a birth on our show]. ... It's the Chuckshow, and so we're trying to figure out how exactly we can make that big and funny, and also have it in the spy component."
GeekTyrant Homepage